Posted by Madeline on 1st Aug 2022
SMS Food Equipment has over 45 years experience of selling and servicing Berkel slicers and are now a main agent for Van Berkel International! Berkel offers professional and domestic slicers for those users who are looking for a unique and quality product. We also sell other quality Berkel food machinery, such as Berkel bandsaws and meat mincers, and all the spare parts for Berkel slicers.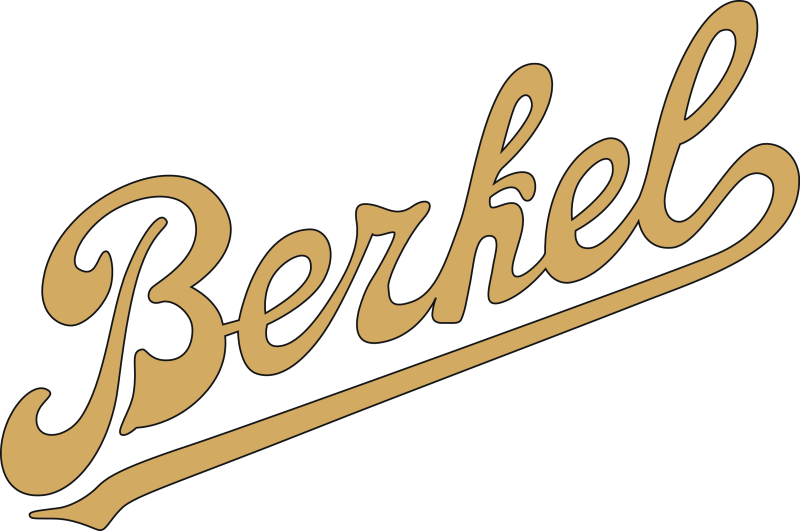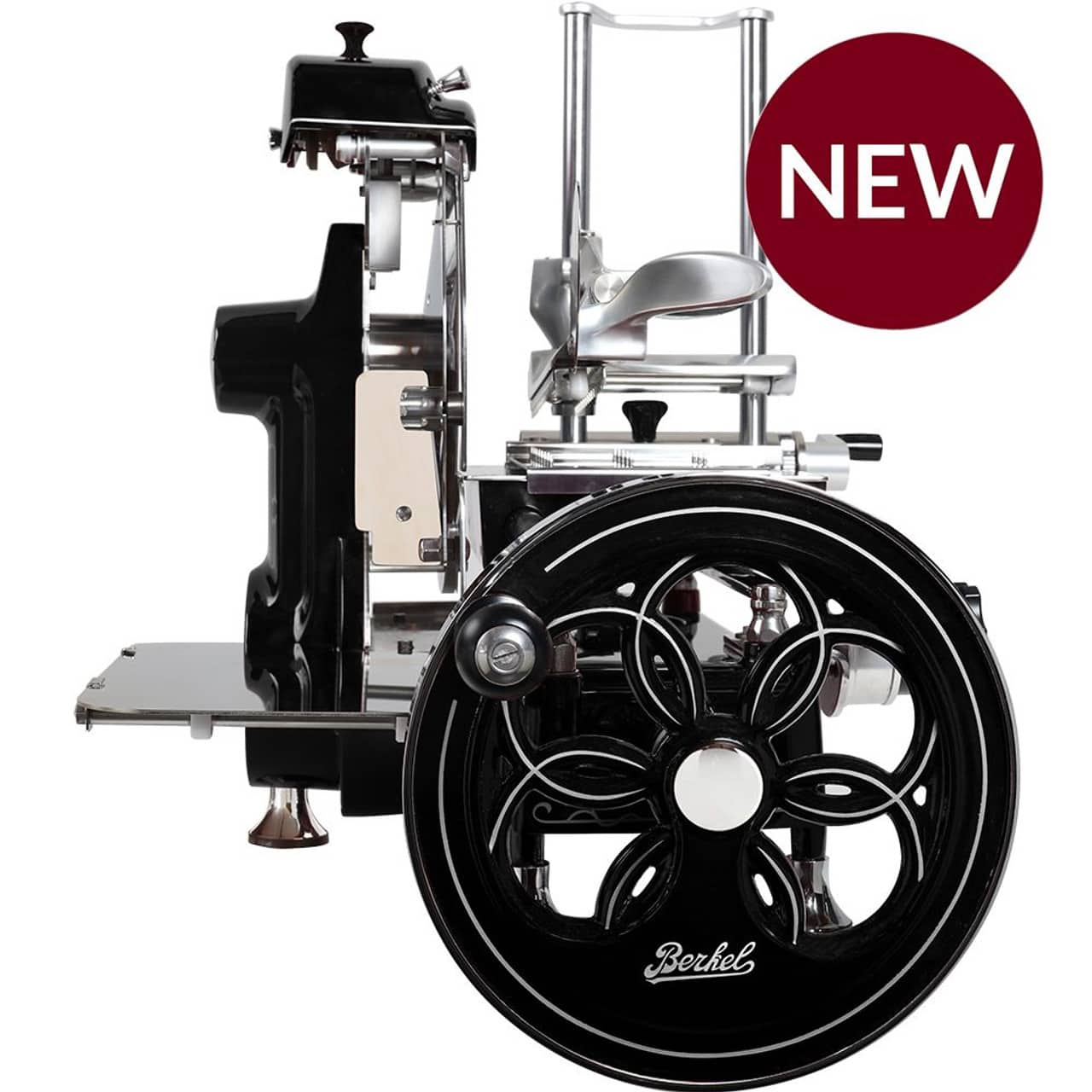 These top quality commercial Berkel slicers are suitable for butchers, sandwich shops, or as heavy duty slicers for supermarkets. In this blog, there will be information provided about Berkel's Gravity, Vertical and Flywheel slicers that can be found on our website.
Gravity Slicers
Electric manual gravity meat slicers, allow the user to pass the meat carriage from side to side. The thickness of the slice can be accurately set using the index. These so called gravity slicers have an angled meat carriage, designed to push the meat against the blade.
This type of slicer is much faster than cutting meat by hand and produces a much more accurate slice thickness.
With an electric meat slicer every slice is cut to the same thickness. This not only reduces waste, it also ensures you can calculate exactly how many slices you get out of a given cut of meat.
An electric manual gravity meat slicer is therefore one of the most time efficient and effective ways to cut meat. The built in sharpener also ensures that time is saved on keeping the blade perfectly sharp. These are recommended supermarkets as heavy duty slicers.
Some of our popular gravity slicers include:
Berkel Pro Line XS25 Ham / Bacon Slicer
Pro Line XS meets the needs of a user with a price sensibility but nevertheless is looking for an excellent cutting performance, matched with the highest safety standards and ease of cleaning.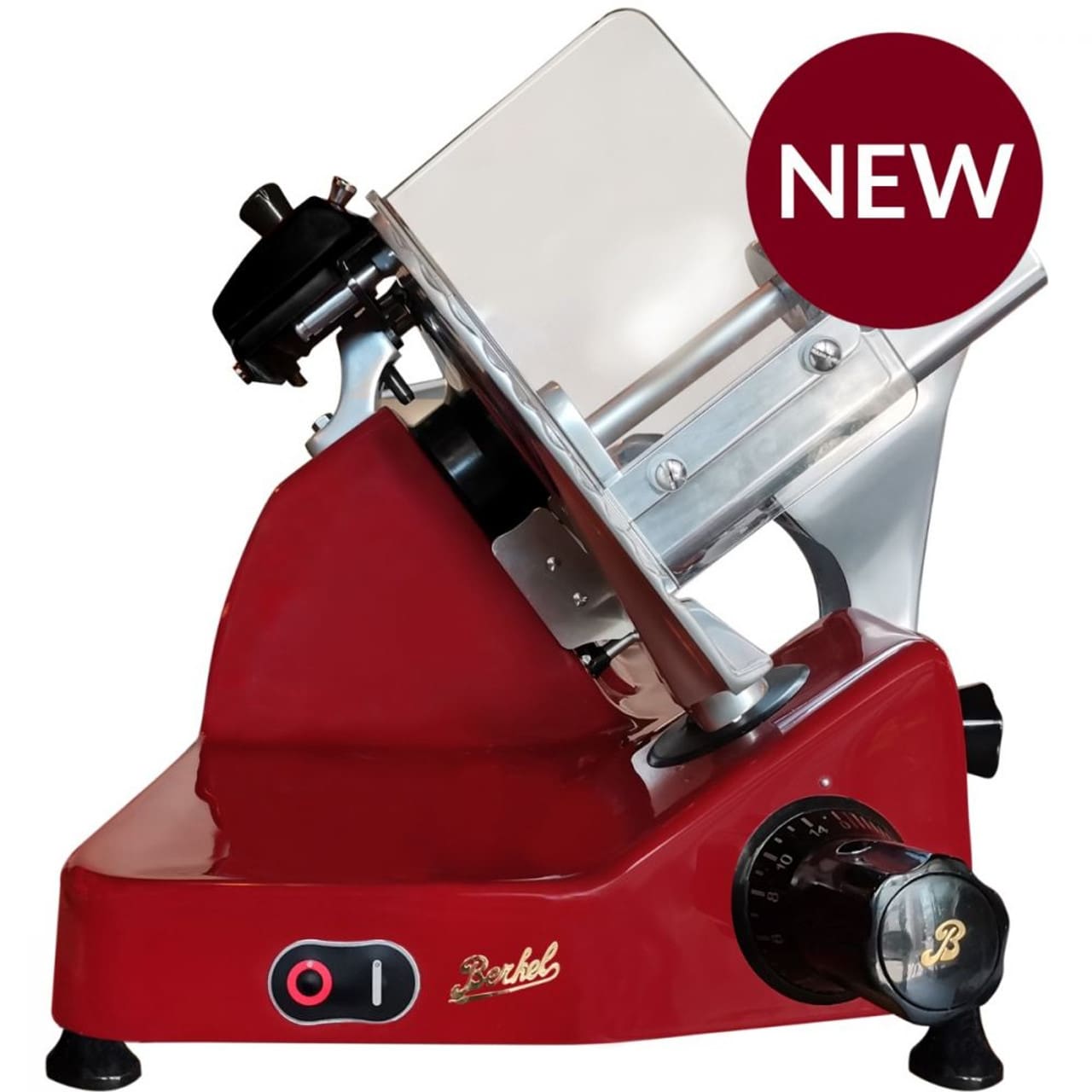 Berkel Domina SLG 350 Ham / Bacon Slicer
The Domina SLG is suitable for use by the most demanding professional and guarantees the highest performance, efficiency and reliability. This electric gear slicer has an innovative design, with rounded corners and is a very powerful machine. The top of the professional electric slicer range from Berkel, as used in most supermarkets.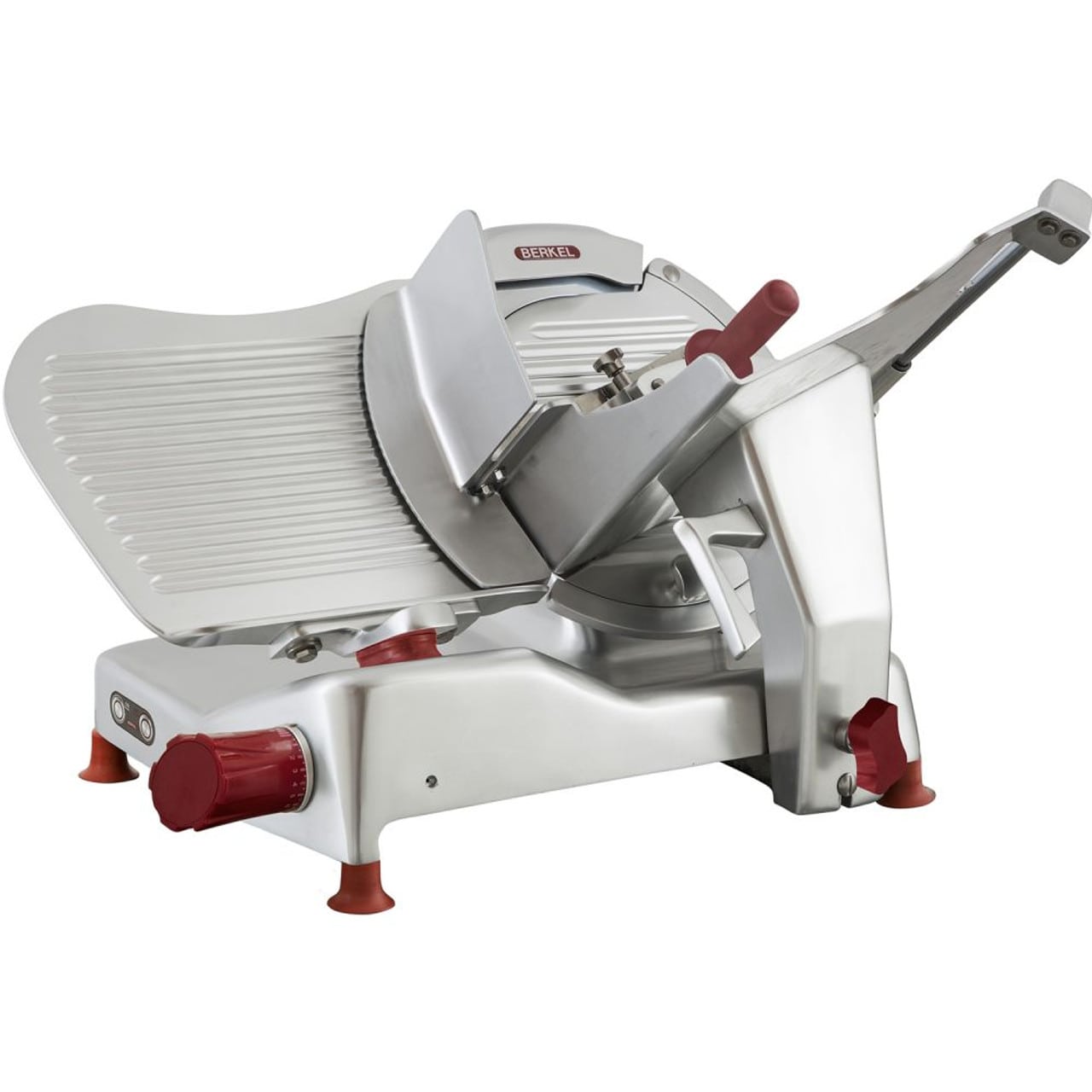 Berkel Pro Line GL30 Cooked Meat / Delicatessen Slicer
Particularly good for easy cleaning - Easily removable parts for cleaning: blade cover, meat table, aluminium product press holder, stainless steel slice deflector.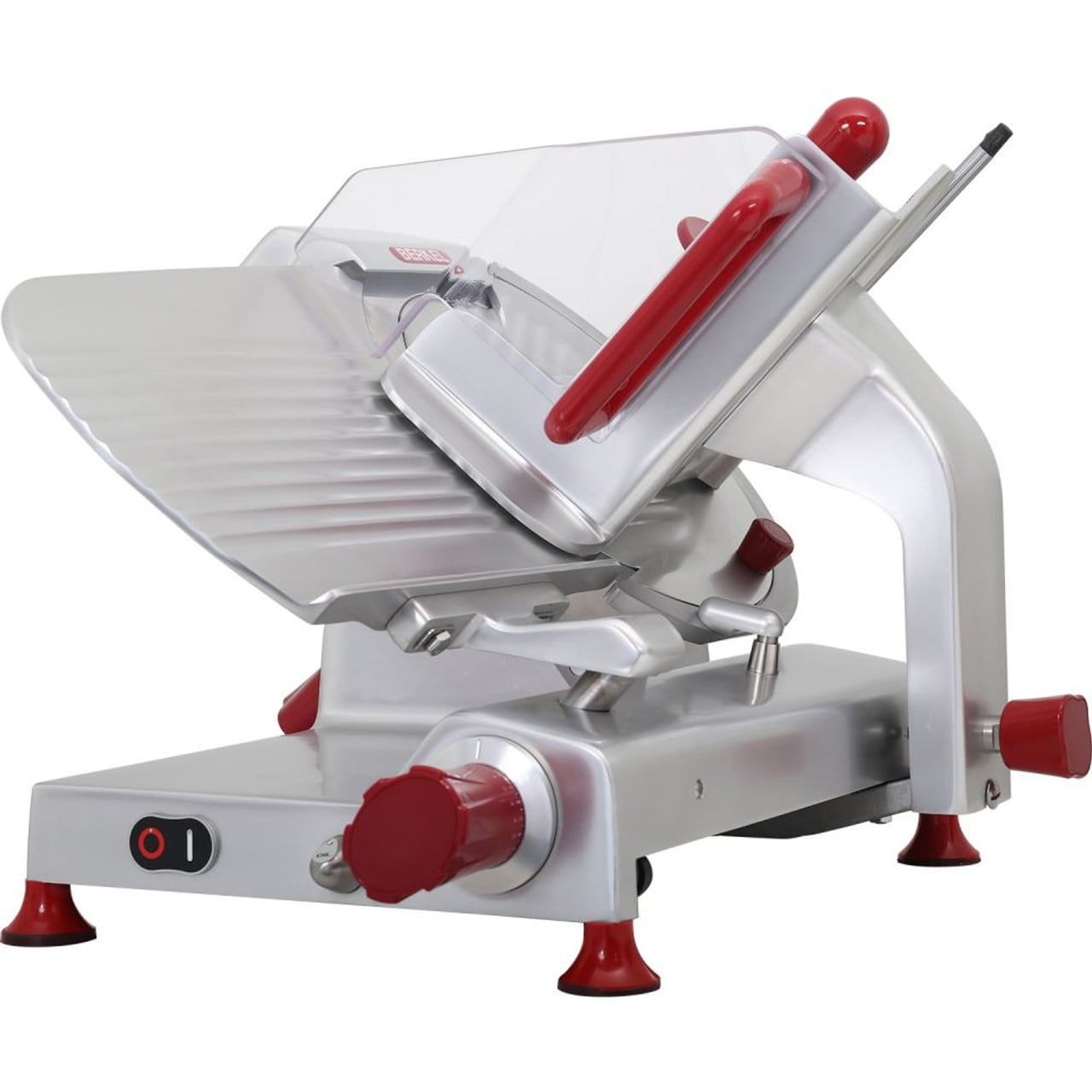 Vertical Slicers
Electric manual vertical meat slicers, require the operator to push the meat towards the cutting blade, the blade being vertical to the plate.
This vertical blade ensures the slicer is compact and doesn't take up a large amount of space.
There are a range of different blade sizes available, making these machines ideal for intensive use at butchers shops, delicatessens and supermarkets.
Some of our popular vertical slicers include:
Suprema Macelleria 35-370 Ham / Bacon Slicer
This has a large double product holder, ensuring optimal space and is completely open at the sides and can be removed for perfect cleaning. The long grease guard provides the best support for fresh meat and moves with the product along the whole length of the cut. Very easy to clean and excellent quality.
Berkel Domina SLH 31-370 Macelleria Ham / Bacon Slicer
The Domina SLH Macelleria is suitable for use by the most demanding professional and guarantees the highest performance, efficiency and reliability. This electric gear slicer has been designed by Berkel, for all professionals in the sector.
Berkel Essentia Macelleria 35-370 Ham / Bacon Slicer
A robust slicer with large cutting capacity, designed to minimize operator effort. The precision of the blade and reliability of the motors for continuous and intensive work, allow significant cost savings for any business.
Flywheel Slicers
All the models in this range are available with a range of pedestals, featuring ornate lettering and red and black paintwork.
They have a classy look, and professional, robust sharpeners are built in as standard. The machines come in a choice of either black or red and can also be fitted with an ornate daisy wheel if required.
Some of our popular flywheel slicers include:
Berkel P15 Ham / Bacon Slicer
Berkel P15 is the artisanal high-end flywheel meat slicer with a vintage design. Its small dimensions make it perfect for home as well as professional use. It exploits today's technology and best materials.
Berkel Volano B116SA Ham / Bacon Slicer
Flywheel B116SA is the semi-automatic version of the historic Flywheel B116, designed for a very intensive use. These features allow it to meet all the speed and output requirements of any supermarket.
Berkel Volano Flywheel B3 Ham / Bacon Slicer
The Berkel Volano B3 is a flywheel slicer with an outstanding cutting capacity and an appearance inspired by models of the past. It ensures a perfect cut and features a vintage design with sophisticated finishes.
An example video of some of our Berkel slicers is below, including the B3 and P15 Flywheel:
For any questions you may have, please get in touch using our email address - enquiries@smsfoodequip.com
Or call us on - 01625 827827