Posted by Joe on 11th Mar 2020
Berkel professional slicers have been manufactured since 1898.
Their quality was soon recognised and the name Berkel became synonymous with quality and reliability. So well made were the machines, that many were still in use after fifty years or more.
Soon Berkel's slicers were sold over various continents and the Berkel brand became recognised the world over, for handmade, craftsman built machinery. The Berkel meat slicer as we know it was born.
Today these legendary slicers are still as popular as ever and are available with many different models to choose from, both manual and electric. When purchasing it's important to be wary of cheaper replicas or imitations!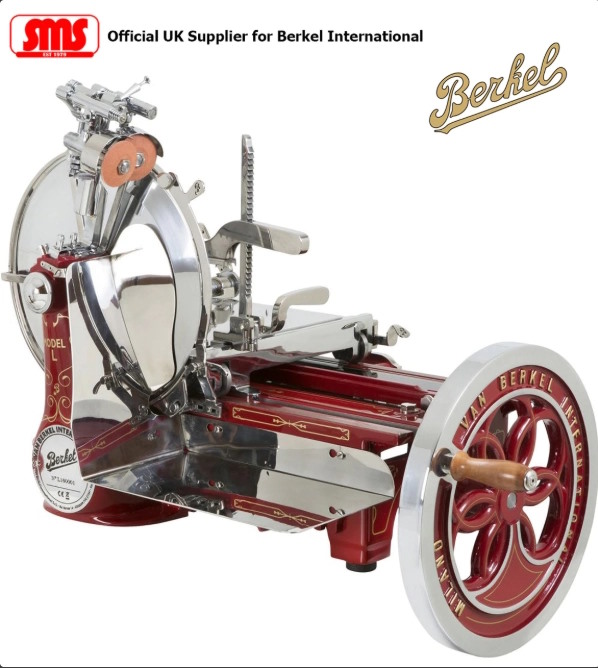 A fine example is the Model L16 Ham/Bacon Slicer (above) with its red and gold paint work. This is as much a work of art as it is a functional machine and would grace any shop counter, restaurant or delicatessen. Today, the mythical L model is still entirely hand made, in perfect compliance with the historic design. New innovations have added the advantages of state-of-the-art solutions in terms of safety and functionality.
Berkel also sell a professional automatic, electric, flywheel slicer, model B116SA, (below) which is designed for very intensive use. It's superb features allow it to meet all the speed requirements of even the busiest supermarkets or butchers shops, while still retaining its historic and beautiful design aspects.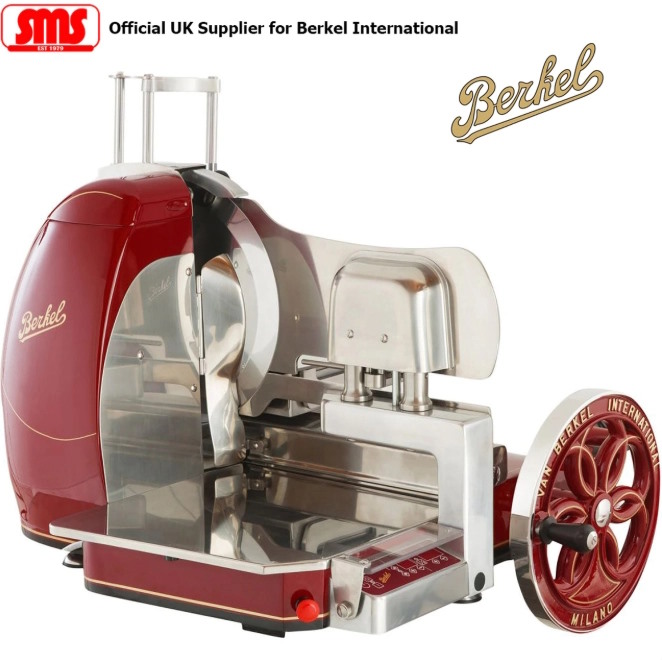 All the models in this range are available with a range of pedestals, featuring ornate lettering and red and black paintwork. Professional, robust sharpeners are built in as standard and the machines come in a choice of either black or red and can also be fitted with an ornate daisy wheel if required.
As a company with over 40 years experience of selling and servicing Berkel slicers, we are delighted to be able to act as a main agent for Van Berkel International in the UK. With our professional advice and knowledge, backed up with an extensive range of spare parts, our customers can be sure of making the right choice with their slicer purchase.
For more detailed information, questions or assistance with these beautiful machines email enquiries@smsfoodequip.com or call us on 01625 827827. We are delighted to help.